Konark Temple Entry Fee
Rs 40.00 for Indian, BIMSTEC, SAARC *
Rs 600.00 for Foreigne Citizen *
(* Rates as of 5th Feb 2022)

Free entry for children below 15 yrs
Free entry for physically disabled visitors

A guide could be hired if you are interested in knowing the rich heritage of this wonderful structure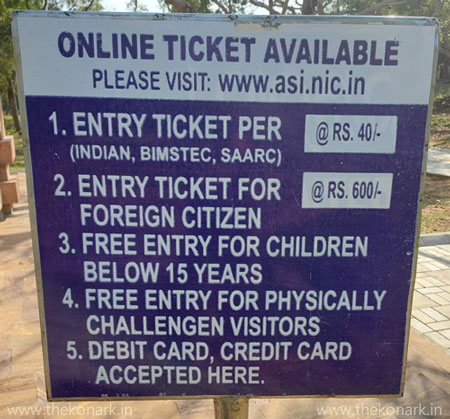 Konark Temple entry fee information board
(Photo taken on 5th Feb 2022)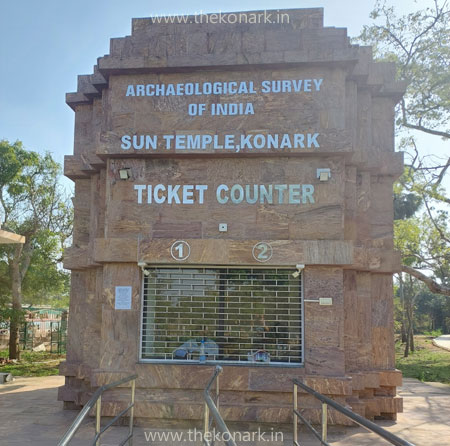 Konark Temple ticket counter
General Tips
The standard time in Konark is GMT + 5½ Hours
The summer is very hot and humid in Konark. Do carry sunglasses, sunscreen lotion and a hat. Current Weather at Konark
The winter is not too cold at Konark. Do carry light winter clothes with you.
You will find beggers in all tourist destinations, it is not mandatory to help them, try to avoid them as far as possible. Do not let them hassle you, and do not encourage them by giving them money.
Change currency only from official money changers.
Always respect religious shrines and places of worship.
In case of any trouble, immediately contact the nearest police station.
Make sure to remove your footwear when visiting a place of worship. All most all temples near Konark will not even allow you to carry leather articles like wallet, belt etc inside. You can deposit them in the temple shoe stand and collect it on your way out.
Safety Tips
While travelling in/to various tourist places of/around Konark in local buses, trains etc. be aware of pick poketers and snatchers. Though it is not a frequent activity but many cases reported every year. Never leave your luggage, briefcase or other items unattended.
Don't keep your wallet in the rear pocket. Keep it in an inside jacket pocket or side trouser pocket.
All valuables and important papers (jewelry, passports, return tickets, etc) should be kept in your hotel's safe deposit box. Never leave them unattended in your room. Avoid carrying large sums of cash on your person.
Don't take the advice of taxi drivers for the purpose of accommodation.
You should be aware of the local laws and customs prevailing in India. This will help in making your trip hassle free.
Never ever purchase air/ rail/ bus tickets through strangers or unauthorized travel agents/ tour operators. They are not at all reliable. Buy tickets from the authorized centers only.
Language
The local language of Konark is Odia. The official language of India is Hindi. The States are free to decide their own regional languages. Bengali is also widely spoken in Konark.
Tourist Guides
Govt. approved english speaking guides are available at fixed charges at all important tourist centres. The Govt. of Orissa tourist Offices can be contacted by tourists for the services of approved guides. Please consult the nearest Govt. of Orissa tourist Office. Unapproved guides are also available in most tourist places, but it is advised to ask the guides for the identity card.
While visiting religious places, hire guides very cautiously. They may take you to unnecessary places and crooks posing as Sadhus or Yogis to extract money out of you. Stick to the places you know and let the guide lead you.
Fix the amount to be given to the guide in advance only. Apart from the fixed amount, you can also give some extra tip to the guide if he has provided you with good services.
Hire guides authorized by the Odisha government as far as possible. Try to avoid private guides. They may try to fleece you.
Health and Medication
Avoid drinking water from an unknown source. When in doubt purchase sealed bottled water from any shop.
Even when you are visiting restaurants or hotels, insist on bottled water. You will not face much trouble as almost all the restaurants and hotels keep bottled water.
You can find vendors selling fresh cocunut water every where in Konark, If you like it then drink it in stead of water as it is safe, pure and good for health.
Avoid foods that have been laid out in the open. Try and avoid spicy food, especially if you're not used to it. Enjoy your food inside the hotels and restaurants.
Never forget to carry your essential medication with you. The brand names can differ and your specific brand of medication may not be available in Konark.
Sun in Puri can be ruthless in the summer months. Keep a good sunscreen lotion and sun block cream to avoid sun damages.
Local Transportation
Taxis(cabs) are always available for local transport, but you will also find Auto Rikshaws(3 wheelers) plently every where in Konark and this is the most convenient way for local transport.
If you want to hire taxi then ask for the quotation to various travel agents as the rates are always vary. Please negotiate the rate before commencing your journey.
Don't accept an offer to share a taxi to your destination unless you know the individual and the taxi driver.
ln case of complaints against taxi or auto rickshaw for overcharging or cheating, note down the number of the vehicle and lodge a report with local Police station.