To glorify the magnanimity of the temple of konark and to make it more popular among the culture and tour loving people across the world, the Odisha Tourism Development Corporation and Odissi Research Centre jointly organised the world famous Konark dance festival from 1st to 5th December every year on the open air auditorium in the backdrop of the majestic Sun temple in Konark, Odisha in India. Konark dance festival was organized for the first time in 1989 by late Odissi Padmashree Guru Gangadhar Pradhan. The only aim behind this festival is to bring in many performers into its cultural family and creating of international cultural friendship and brotherhood.
This festival has established its own uniqueness in the sense that talented dancers and their troupes of national and international reputation join and perform Bharatnatyam, Kuchipudi, Odissi, Kathak, Manipuri, Mohiniattam, Chhau and other tribal, folk and classical dances on the fascinating stage of the Konark Natyashala. It is a common platform to witness various forms of Indian classical dances. For five days, this World Heritage Site echo's with the beats of Phakawaj, the tune of flute and the rhythmic sounds of ghungroos combine to transcend one into a fantasy. The pits of the platform opened to the sky resembling some sorts of stage performance in the famous Shakespearean era.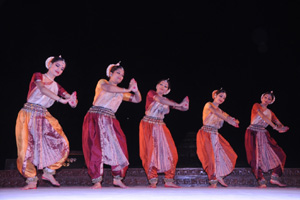 Dancers performing at Konark Dance Festival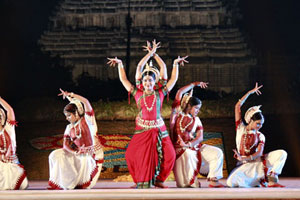 Dancers performing at Konark Dance Festival
A sand art exhibition and a crafts fair are also arranged during the Konark dance festival which serves a wide variety of delicious cuisines, variety of handicrafts and magnificent handmade sand statues by sand artists. This fair also adds more fun to the dance festival thus making it a perfect site for a family get together and a cheerful experience to tourists.
The objective of Konark festival is to promote Konark temple as well as state of Odisha as a place of tourist destination. The festival is a potential platform for both the performing artist and the dance enthusiasts. The Konark dance festival has become a major event in the country's cultural calendar and attracts large number of tourists to Odisha, India every year.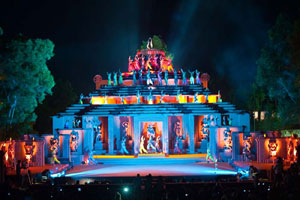 Dancers performing at Konark Dance Festival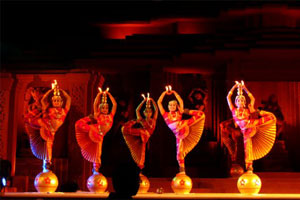 Dancers performing at Konark Dance Festival